4 febbraio 2012
6
04
/

02
/

febbraio
/

2012
00:58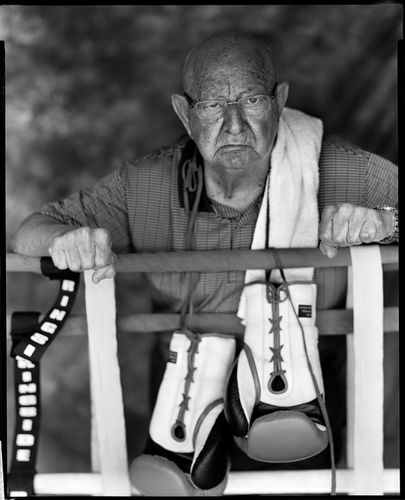 "It's been like that forever. We got spoiled by Joe Louis, by Rocky Marciano. Muhammad ruined us for everybody. He was great outside, he was great inside. We got so accustomed to it we thought we deserved it."
"Assumption is the mother of the screw-up."
" Both guys ran out of gas, only my guy had an extra tank."
"I think I would have to go so far as to say Russell is Jim Braddock" (dopo aver seguito Russell Crowe durante la lavorazione di "Cinderella Man")
"I'm amazed the way Russell picked up his mannerisms, his smoothness, the legs, the way he slides, that slip, slide, block, slide, jab - boom!"
Like Jim, he has just about the greatest left hook I've ever seen.
He's got the speed, the rhythm, the determination and especially the will."
"Right now, there's nobody out there to turn people on ... This is the disease of Muhammad Ali ... With Muhammad, every time he did something, it was excitement. It's excitement now, when the guy comes around, walking around with Parkinson's. It's unfair to try to compare anybody to this kid."
"You're blowing it, son! You're blowing it!" (a Ray Leonard, durante il primo match contro Thomas Hearns)
"Suck it up Champ they gave the last round to Ernie"
"I just put the reflexes in the proper direction."
" You take what the guy gives you. If there's nothin' there, you handle it. No problem."
" Muhammad was aware of what to look for and he handled it on his own. He did his own thing. I never programmed him. "
"I loved the movie for the simple reason that I saw the scenes and I saw Muhammad working with these guys."
"What's his name? I tried to forget him because if he would have fought like he worked with my guy he would have knocked the guy out."
"I never knew about a lot of the outside things,"
"I was so bored. I was teaching lizards to do push-ups" (in Zaire, aspettando Ali-Foreman)
"When she would walk, it was like rhythm. The guys' heads would bounce, but I wouldn't look because I was married."
"Any fighter didn't like Muhammad Ali should have his head examined."
"I'm only as good as the guy on the stool"
"George has three speeds: slow, stop, and wait a minute" (su George Foreman)
"Training fighters is like trying to catch a fish. It's technique, not strength"
"Muhammad Ali is Muhammad Ali; compared to him , all other men are earthlings"
"In that minute, Angelo is Godzilla and Superman rolled into one" (Ferdie Pacheco)