28 aprile 2012
6
28
/

04
/

aprile
/

2012
01:46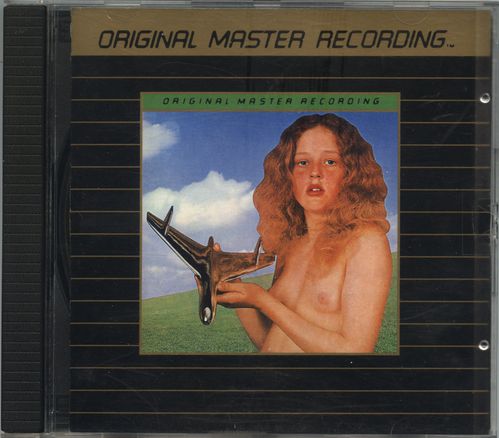 Un paio d'ore fa mi stavo industriando con lo scanner per mettere poi in vendita su eBay.com questa ristampa Mobile Fidelity collezionisticamente interessante dello storico album "Blind Faith". Tra parentesi, la vendo perchè "Blind Faith" è sempre stato un disco registrato da cani, e nemmeno il mastering migliore del mondo lo potrebbe salvare: dunque, meglio tenersi la copia stock da due lire e rivendere questa, che potrebbe fruttare una quarantina di dollari o anche più, visto che si tratta di una delle vecchie edizioni MoFi stampate in Giappone dalla Ultech, e a qualche fissato queste cose interessano, e visto anche, aggiungo, che mi è capitato di comprarla mesi fa per una cifra assolutamente trascurabile.
Ma non è questo il punto; un'ora dopo aver piazzato l'inserzione, eBay rimuove l'oggetto in vendita e mi scrive la seguente lettera (copio e incollo):
You recently listed the following auction-style listing:
200751191254 - BLIND FAITH MFSL UDCD 507 MADE IN JAPAN GOLD DISC
Unfortunately, we had to remove your listing because of the following:
This Blind Faith Album is only allowed on eBay under the following circumstances:
- The listing does not show, imply, or make references to the "Girl Cover/Album"
- Images of the back or inside of Cover are allowed as long as the above has not been violated
- Albums with the Alternative Covers are allowed
You may relist if you adjust your listing to be in compliance with eBay policy.
If you see other listings for this item on the site not following this policy, those listings are also in violation as well. Please report other listings that you see to us to be reviewed by using the 'report item' link on the right hand side of every listing.
Sexually-oriented adult material can only be listed in the Everything Else > Adult Only category. However, even items that may be legal to sell to adults may not be permitted on eBay.
Child pornography is illegal and not allowed on eBay. Items considered child erotica can be problematic, so any items that include nude minors (people under 18) are generally not allowed. This includes describing items with words such as "nude," "nudist," "children," "youngsters," and "teens." Items describing minors in a sexually suggestive manner aren't permitted on eBay.
We appreciate your undestanding.
Thanks.
eBay.
Quest'album era nei negozi nel 1969, e la copertina è opera del fotografo Bob Seidemann, uno che in carriera ha immortalato gente come Janis Joplin, i Grateful Dead, o i Traffic, e creato altre copertine, come quella di "Late for the Sky" di Jackson Browne, oltre a poster di varia natura.
La foto fu chiamata da Seidemann "Blind Faith", a Eric Clapton piacque, e chiamo così anche la band e il disco. Raffigura una ragazzina con i seni scoperti, e, forse, per qualcuno potrebbe essere di cattivo gusto, ma è la copertina di un disco uscito 40 anni fa, e non pornografia infantile, come i bacchettoni di eBay vorrebbero dare ad intendere.
Quello che si intende molto chiaramente, invece, è che a furia di adeguarsi alla crescente idiozia del politically correct, la società si sta rincoglionendo un bel po'.
Mi piacciono sempre meno, questi anni duemila.